Joined

Feb 23, 2016
Location
Does anyone have any leads/sources for an analog tachometer that I could integrate to this lathe? I don't care how new/old the tech is, wither it's mechanical or electronic, but I'd like to have an old-school needle dial display rather than the new digital readouts that are easy to find.
Two stroke Detroit Diesels use a needle type tach, the gauge in pics is a 3" or 4":
The range is higher than you like at 2500 rpm top end, but I may be able to check if lower options are available. No longer made by Detroit Diesel, but several aftermarket makers. In fact, for you, there is a gauge dealer in Houston that supplies all sorts of stuff to industrial and marine engine dealers in the area. I'll check for the name, but won't know an answer till next week.
The particular maker in the pic is ISSPRO, but VDO and some others make them.
The Detroit style is directional though, prolly not a big deal on lathe, but it only reads one direction, clockwise or counterclockwise. Also cable driven. Cables can be made to length, and there are 90 degree adapters and drives that can do 1:1, 1:1.5 etc. An outfit that can make or get cables is Stanley's Parts in Channelview TX.
Edit* Another possible consideration for tach would be from big bore medium speed engines, like EMD's, top end on those engines are in the area of 900 rpm. More modern will be digital on those, but those engines go way back too, no doubt some needle types available somewhere.
This looks interesting, but don't know if it works or how its hooked up:
From: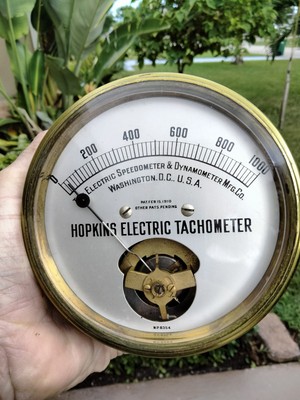 Find many great new & used options and get the best deals for ANTIQUE BRASS / BRONZE HOPKINS ELECTRIC TACHOMETER IN GREAT CONDITION SEE PICS at the best online prices at eBay! Free shipping for many products!
Last edited: